Bernadette Karajic became a once-off property developer so she'd never have to work again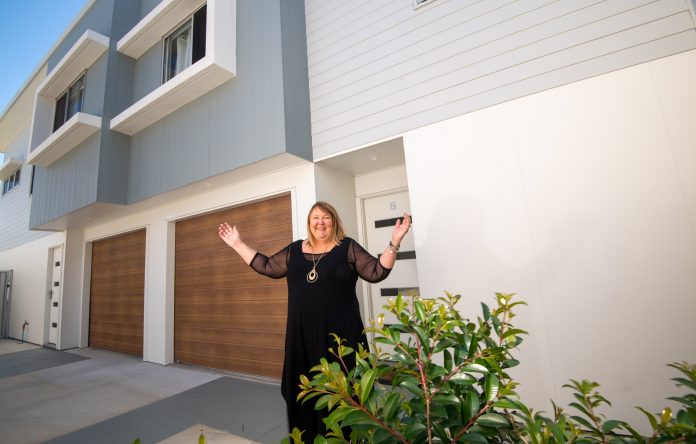 After she was widowed, Bernadette Karajic had to forge her own financial path. Picture: Warren Lynam

BY KAT DONAGHEY   /   23 SEPTEMBER 2021
A Caloundra mum-of-three has achieved her goal of early retirement — and will never have to work again — after taking a risky leap to become a once-off property developer.
Bernadette Karajic, a former bank employee, demolished two homes to build eight townhouses on Regent Street which she sold with enough profit to live out her dream.
But the massive construction project wasn't easy, and Ms Karajic says being a first-time female developer was probably the most stressful time of her life.
"It was definitely a leap of faith for sure. It's not for everyone. You're throwing up many balls and hoping that it all comes together," Ms Karajic said.
"It helps to have a very firm idea of why you are doing it; you've got to be very strong in your 'why' and you just keep your eye on that target."
Ms Karajic's "why" was early retirement.
A few years after her husband died in 2003, killed in a mining accident at age 39, Ms Karajic had the foresight to buy two adjoining properties on Regent Street with the goal of one day developing them.
But as a then 38-year-old widow, raising three kids aged 2, 5 and 7, she didn't have the time for a major venture and sat on the idea for at least a decade.
"I don't know how I got into the frame of mind to do what I did (buying the properties) with all that was going on," Ms Karajic said.
"But everything went on ice for 12 years."
When her youngest child turned 17, she decided it was time to bite the bullet and, in 2017, she began the project that would consume the next three years of her life almost full time.
The townhouses were completed in October 2020, just when the Australian property market was forecast to tank.
"My background's in banking. I think it's quite surreal that I even did it. I went in it quite naively," Ms Karajic said.
"I had to borrow for the build, so that was quite hair-raising. I definitely had support ­– you can't do this without a team behind you ­– but it was all in my name: the debt was in my name, the project's in my name.
"If it was easy, everyone would be doing it. It's certainly not for everyone."
At one stage, the opportunity arose to sell the land and step away and Ms Karajic also had someone offer to team up as a joint venture but she decided to continue solo.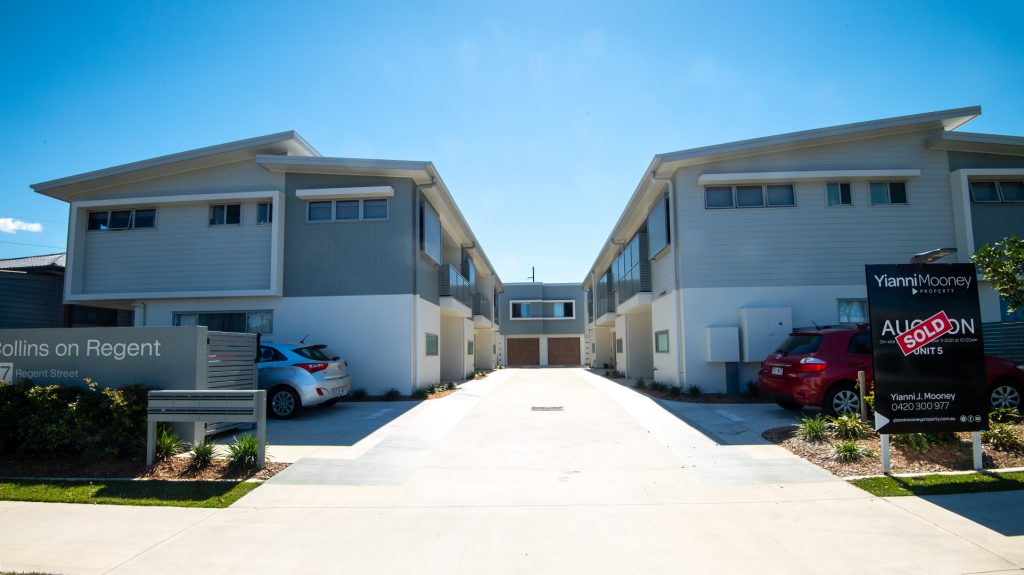 Bernadette Karajic completed Collins on Regent in October. Picture: Warren Lynam

Cheering her along were friends and peers at WOW Property Women, a network of women on the Sunshine Coast from a range of backgrounds who are either property developers or interested in property.
WOW was founded around the dining table of Lorna Willis, the developer of the $90 million Lowanna Beach Resort in Buddina, after she moved to the Coast from Victoria in 2013.
Ms Willis said property development was not for the faint-hearted and there were very few women in the industry, but for those who had a crack, the opportunities were there to smash the glass ceiling and reap big dollars.
Ms Willis's network now includes some 500 women and is the only development-focussed support group of its kind that she's aware of in Australia.
"I was trying to help a friend understand property so we gathered around my dining table and said, 'Bring some friends along and let's see what we can help teach you'," Ms Willis said.
"Then more women joined and it grew into my lounge room and then more came along, so I had to take it into a public forum. So, we started having meet-ups every month and I'd bring guest speakers or we talk about our own real deals so that way we're hearing our own experiences.
"It's about together as women we can actually inspire, encourage but also create a safe place so that women can ask any question or have a little meltdown if they want to or whatever they need to do to help get them ahead in their own financial independence."

Bernadette Karajic had a cheer squad in the WOW Property Women group.

Ms Karajic often turned to the women and likened them to her personal cheer squad.
They helped steel her nerve when she took the calculated risk of knocking down the original houses before she had even signed off-the-plan sales contracts.
When Ms Karajic encountered design issues near the beginning of the project, she phoned Ms Willis as a sounding board.
"All we did was be her support team, cheer her on, give her advice if she needed it, but she's now through that and set herself up for retirement and is moving on to live the dream."
Almost as far back as she can remember, Ms Willis says her own passion was for "creating spaces" ­– whether it was in a haystack or building a cubby house.
Growing up on a farm in a "humble" home with no running water or power, Ms Willis said she had always dreamed of having a place of which she could be proud.
With that motivation, by age 18 she had bought her first block of land for $4000 in the Gippsland region of Victoria and, after getting married, built her first home with a hammer and trowel.
By the time she and her husband had hand-built their second house, and welcomed their fourth child, Ms Willis said she knew what she wanted to do.
"I decided what I wanted to be when I grew up, which was at the age of 30. I decided I wanted to study architecture and architecture drafting and went off to study."
After excelling in a diploma and university degree, Ms Willis opened a successful architectural-design business until she realised her true passion was in hands-on property deals.
So she took her first foray into development, buying houses in areas with mixed zoning and turning them into commercial offices for sub-letting, discovering the "magic formula" of adding value.
Ms Willis continued buying residential properties and converting them to commercial, and earned her stripes as a female property developer in Victoria.
When she moved to her new paradise on the Sunshine Coast, she recognised the early signs of growth that she had experienced in Victoria, where property was doubling in value every 10 years.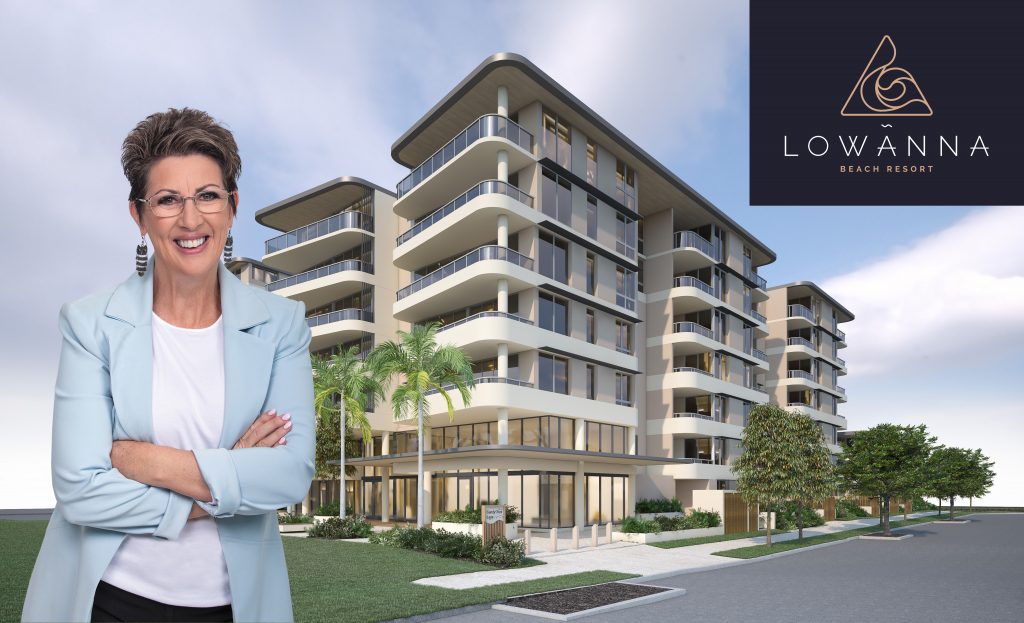 WOW Property Women founder Lorna Willis and her Lowanna Beach Resort development.
In March this year, Ms Willis released her major project to the market, Lowanna Beach Resort, which she had been working on for four years, securing nine properties for demolition and obtaining approvals and community support.
"There's been times when I've had so many naysayers at the start: that this will never happen, that it's not going to work, it can't happen," she said.
"I've had to really channel my faith in myself and faith in the vision and have the right team around me."
For example, there was the time someone disparagingly referred to Ms Willis's project as a "bunch of women and they've got no money".
Ms Willis still has another couple of years to see her project to fruition with sales currently about 60 per cent and the possibility it could be sold out by Christmas.
Meanwhile, Ms Karajic will be officially retired in 30 days when the last of the townhouses which recently sold at auction, is settled.
"I say to people, 'This is the year I have retired'. I guess I hope to do a bit of travel around Australia. To be honest, it's so fresh now, I don't know what I plan to do.
"It's a new chapter, but my days of building another eight townhouses is over."